Overview
Easy & Elegant
ATracker is a time tracking application which is very easy to use and requires minimal setup.
On the main screen, you see the complete user defined task list, the overview of today's time spending and goal progress. You can start/stop time recording simply by tapping a task.
It only needs a name and/or icon to setup a unique task, with advanced settings as optional. So you can focus on own work instead of wasting time on mastering the app.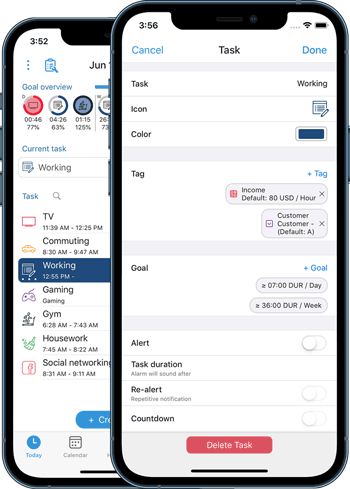 Keep track of your time
ATracker creates beautiful reports in pie chart, bar chart and goal progress which you can share via Facebook, Twitter and email. You can also export data in CSV format.
ATracker renders the daily time spending in both list and calendar view. You can tap the task entry to modify it or to convert iCal entry to ATracker entry. You can also compare the iCal planned activity with actual time usage.